In China, Starbucks and the local up-and-comer Luckin Coffee are two coffee chains with completely different business concepts. One is thinking about e-commerce and logistics, while the other is focusing on augmented reality (AR) and experiences. Together, they confirm that e-commerce is not the opposite of brick-and-mortar retailing.
E-commerce is not killing physical stores. It is killing boring retailing, and its tools can make shopping more convenient. This is most apparent in the Chinese market. In this article, we will tell you why by having a closer look at the largest Starbucks coffee shop in the world, Starbucks Reserve Roastery in Shanghai, and its conceptual opposite, Luckin Coffee.
Luckin Coffee—What Kind of Dishwater Is This?
The venue feels cold with its typical boring "Swedish" grocery store floor tiles. There is nowhere to sit. A couple of warmly clad baristas are standing behind the counter. Staff members that are not standing by the coffee makers give us an indulgent glance and try to understand what we want even though we do not speak a word of Chinese and we have not done what everyone else does, which is place an order with our phones before coming to the coffee shop.
When the time comes to pay, there is no register or credit card terminal, so another customer takes pity on us and pays for our coffees with her phone. We pay her back in cash and say xièxiè from the bottom of our hearts.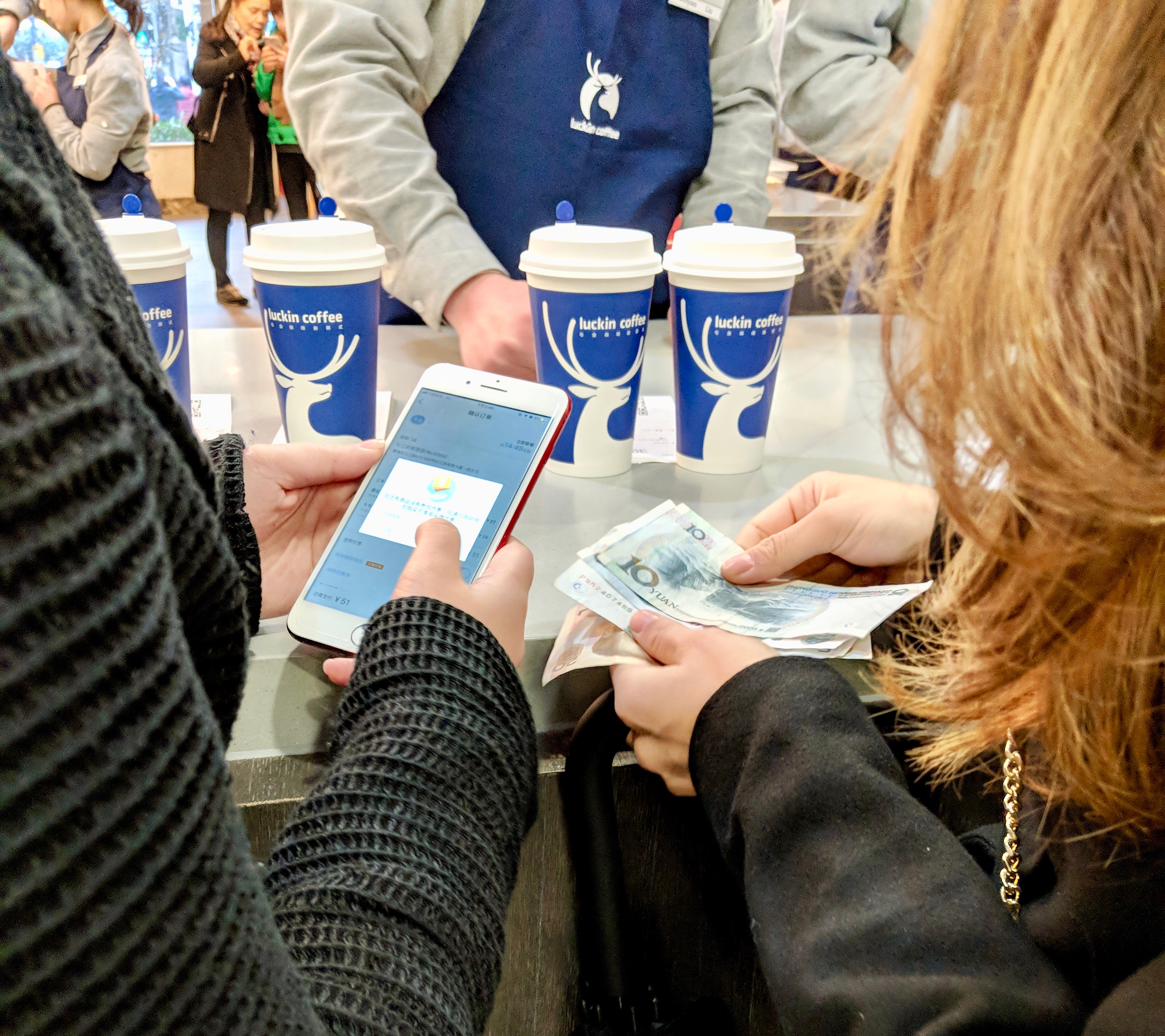 Once back out on the street, we take the first sip of our coffees and wonder why it does not come with a futuristic taste at all. What is the thing about odd service and mediocre coffee?
More Coffee Per Square Meter
The Chinese are a tea-drinking people, and the coffee culture is a relatively new thing that is growing first and foremost among the urban elite and the upper middle class. That makes it possible to sell coffee as a premium beverage. But even though the margin per cup can, or should be, high, it is difficult to make a profit from a coffee shop because the cost of renting the venue is so high and the thresholds for starting a coffee shop business are so low, among other reasons.
... Delivery hubs that are only meant for coffee delivery messengers.
Luckin Coffee has understood the challenges of the industry and has designed almost its entire business concept around minimum-sized stores and assembly-line thinking. Luckin Coffee shops do not have a physical checkout—you just pay in the app and go grab your coffee.
We later understood that the store we visited is one of the chain's pick-up stores. Luckin Coffee has three different types of coffee shops:
Some where you can order a coffee and then sit down and drink it in the shop.
Pick-up stores where you pick up pre-ordered coffee.
Delivery hubs that are only meant for coffee delivery messengers.
Types two and three are run out of smaller venues with substantially lower rent.
Working Directly With the Carrier
Luckin Coffee is fundamentally an e-commerce company that has created a coffee shop chain where the cafés, or coffee shops, should be considered logistics hubs. This image is reinforced by the fact that the company started by signing an exclusivity agreement with FS Express, which is an out-and-out carrier/logistics company, instead of the regular food delivery apps that are so common in China.
Thanks to this strategy, Luckin Coffee could guarantee a 30-minute delivery right from the start. If your coffee order has not arrived on time, you get an extra cup of coffee.
Caffeine Heaven—A Five-Star Starbucks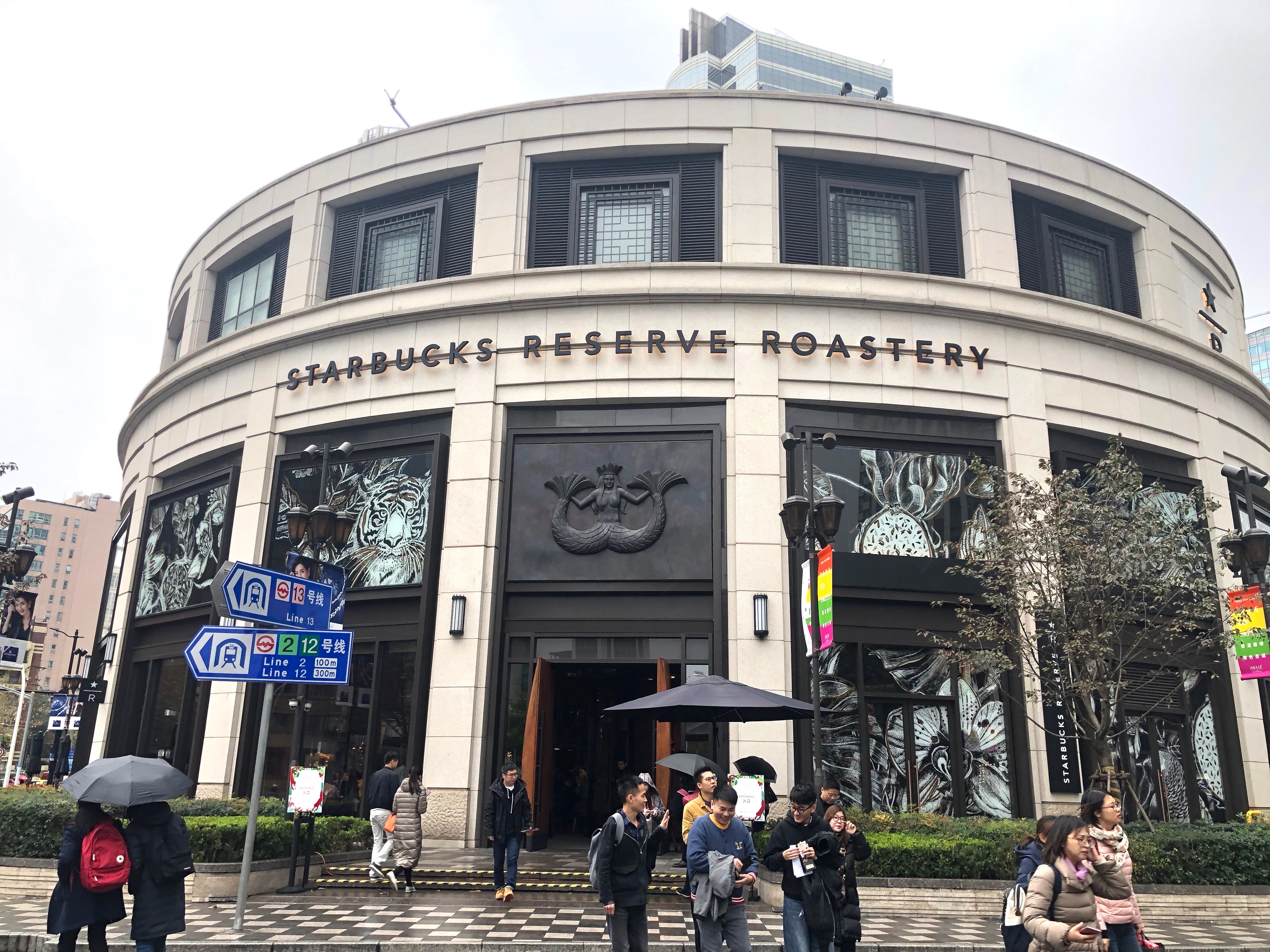 You can buy a cup of coffee online from Starbucks as well (which is currently working to expand its e-commerce business side), but a Starbucks coffee shop is generally the calm oasis in the middle of the shopping crowds where you can relax to jazzy muzak and truly enjoy every bean.
The crown jewel in Starbucks' augmented reality experience concept is its Roastery stores. The largest Roastery in the world has been placed at the heart of one of the most luxurious shopping areas in Shanghai. And visiting this coffee shop it is truly an experience.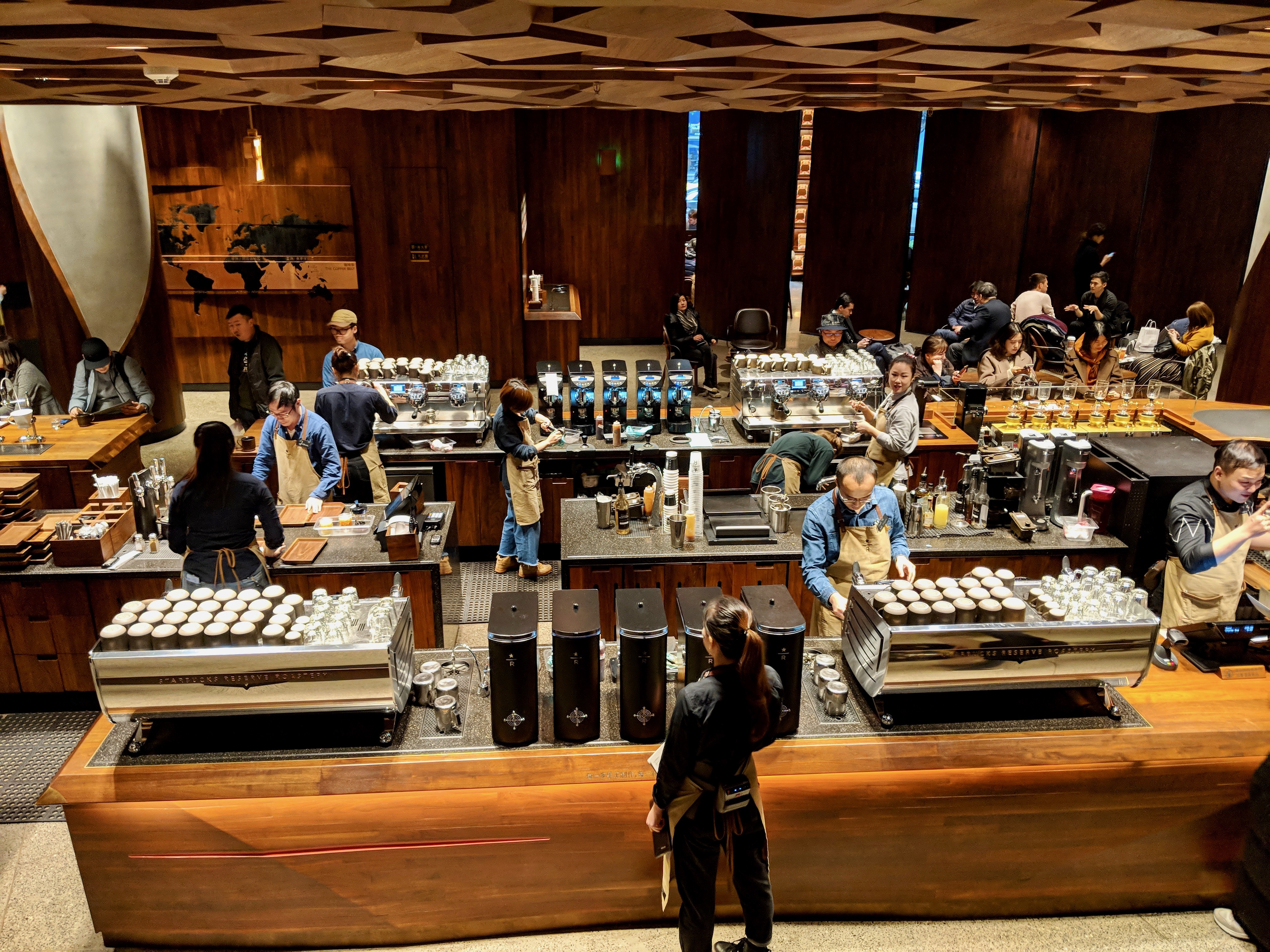 Four different coffee bars and a 3D-printed tea bar can be found in a 2,700 square meter venue.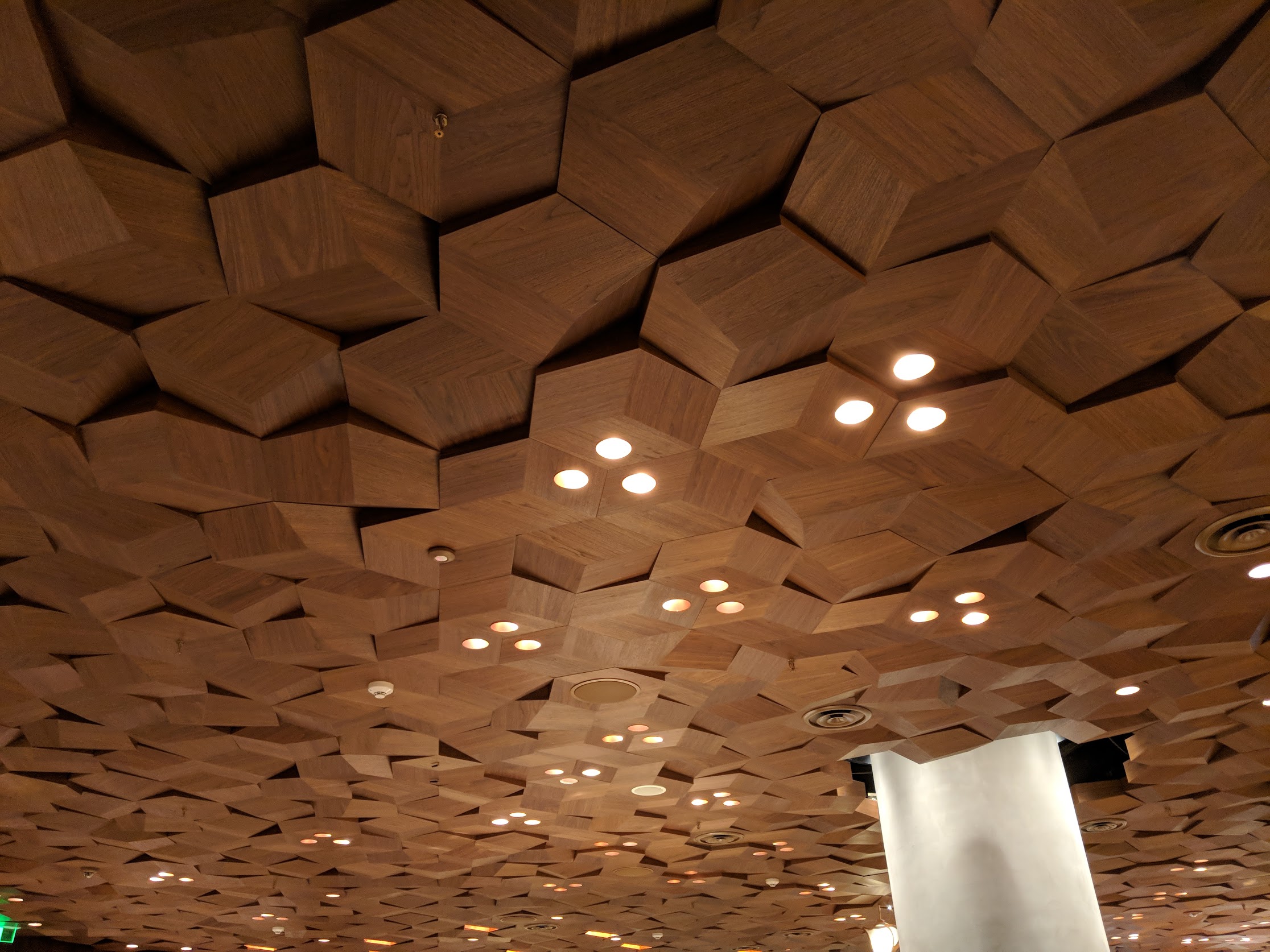 Everything has been carefully designed—down to the tiniest detail. The ceiling consists of 10,000 handmade hexagonal wooden tiles that are supposed to be inspired by an espresso shot.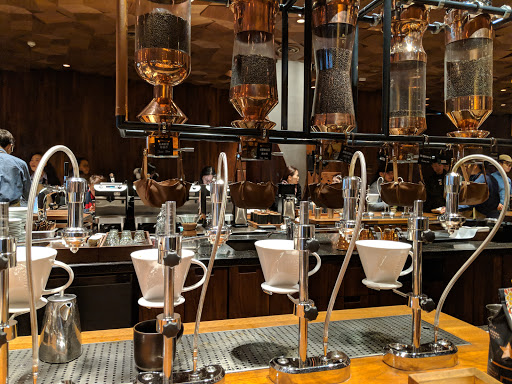 There are over one hundred different kinds of coffee—and tea—on the menu.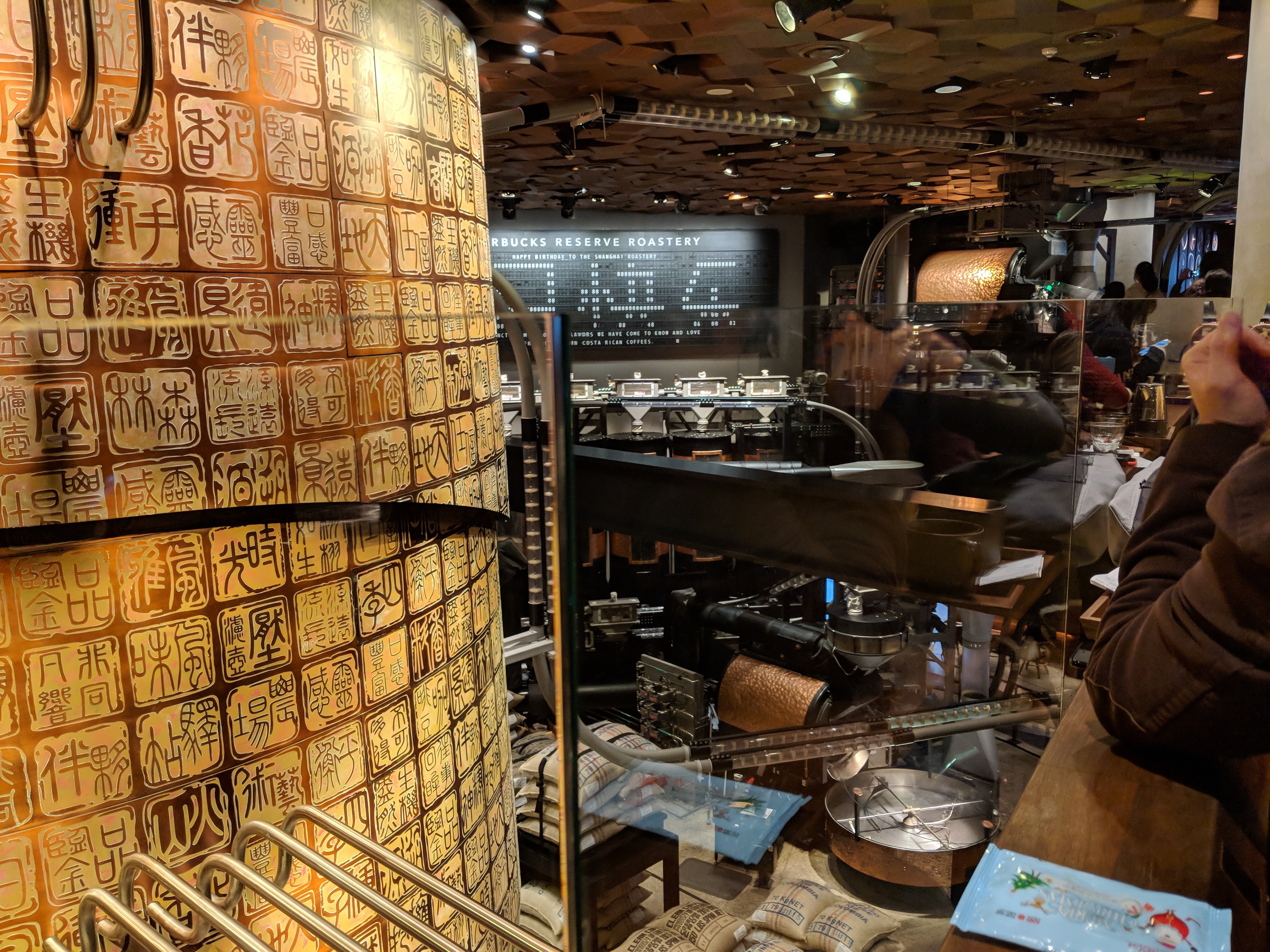 At the center of this coffee carnival, there is a gigantic cylindrical copper cask that all the coffee beans flow through on their way out to the bars. The cask weighs 40 tons and has been adorned with over 100 engraved copper plates, also called stamps. The stamps tell a story that you can "read" with the help of your phone and an AR-guide. Alibaba's Taobao is behind this technology. The app also knows where you currently are in the store. If you sit down at the tea bar, for example, the tea menu will automatically pop up on your device.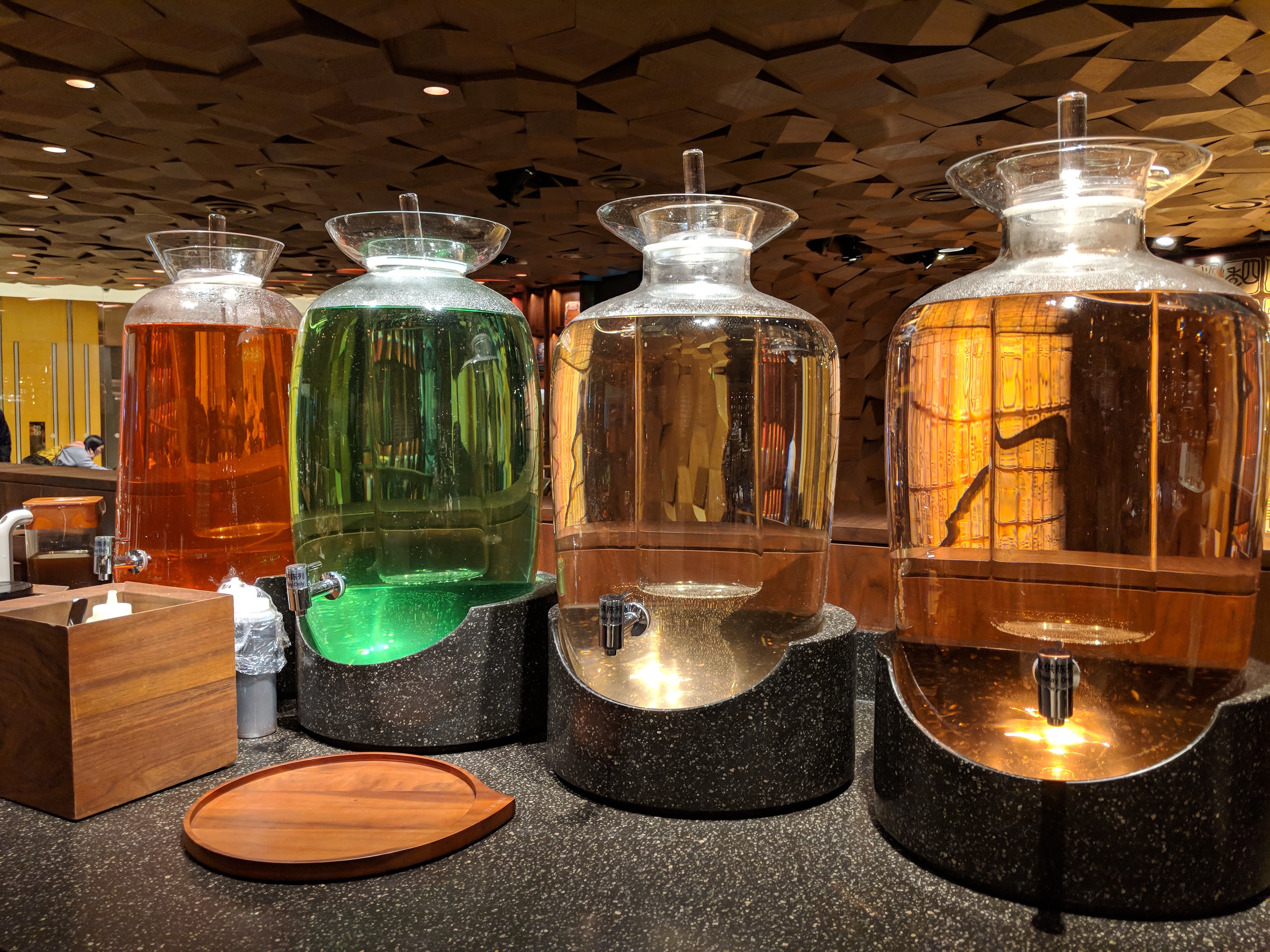 Do you want some tea? The numerous ways to brew tea is only exceeded by...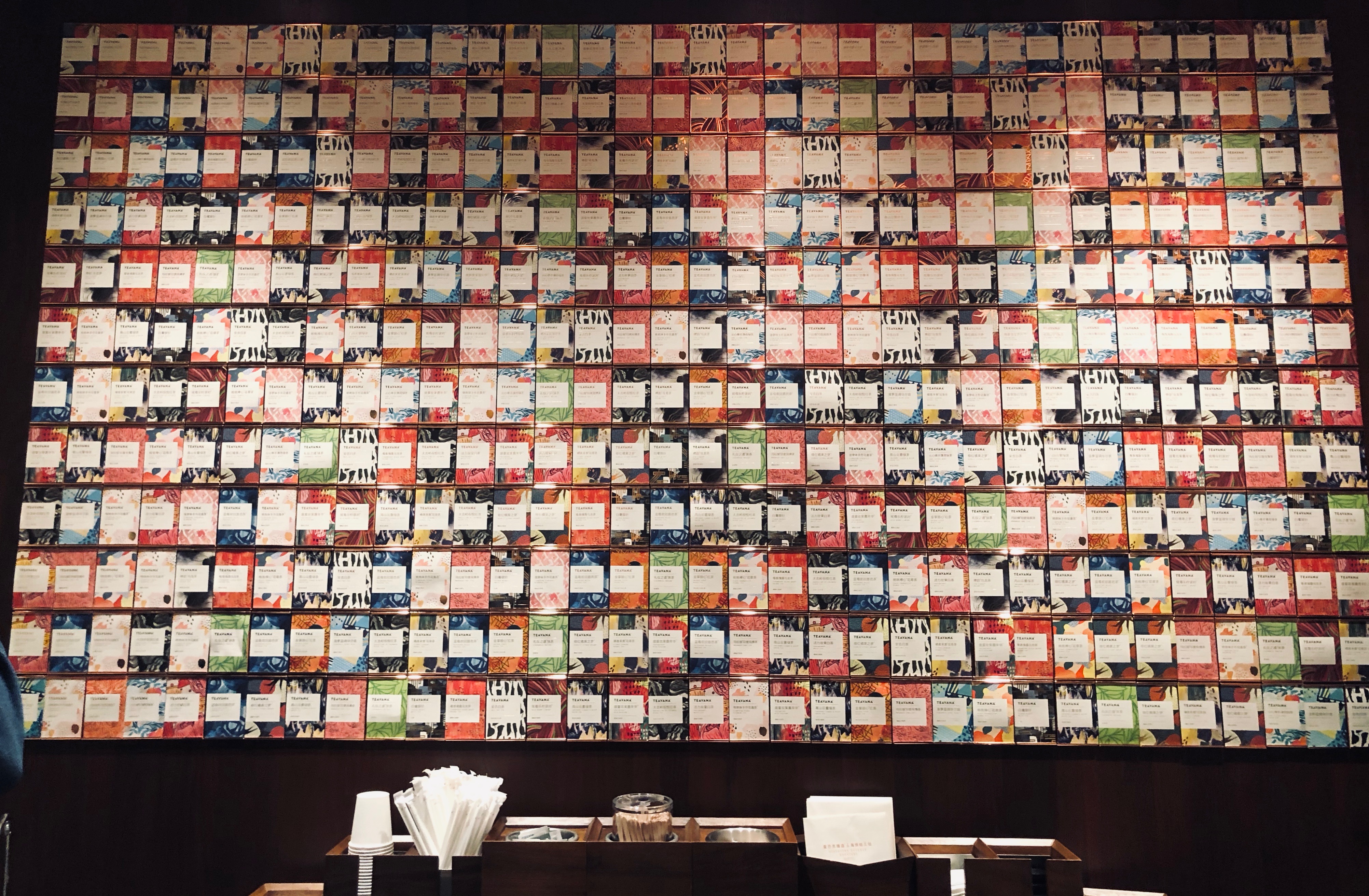 ... the number of kinds of tea you can choose from.
Luckin Coffee Is More Interesting Than Starbucks From a Logistics Point of View
Both Starbucks and Luckin Coffee show us that the e-commerce vs. brick-and-mortar retailing issue is no longer a problem in China. It is all considered retailing, but just different kinds of retailing, where digital tools are used to enhance, enrich, and simplify shopping so consumers can get what they need anywhere and in whatever way they choose to shop. This is called New Retail.
The company understands that fast deliveries and accessibility require small, local "reloading spots"—everywhere.
Luckin Coffee is the up-and-comer that brings the New Retail concept to the latte culture. The following three points illustrate its uniqueness:
On demand via small logistics hubs. Since its launch at the end of October 2017, Luckin Coffee has grown to 3000 shops and is steadily opening up new ones. The company understands that fast deliveries and accessibility require small, local "reloading spots"—everywhere.
Its own carrier. Transport and delivery management is an integrated part of the company's DNA. Deliveries are such a crucial part of its operations that step one was to prioritize setting up an agreement with an out-and-out carrier and logistics company instead of with the very common regular Chinese food delivery apps.
In control of the data. Instead of becoming a micro-integrated part of the other apps in the Chinese social channel, where all kinds of consumer transactions happen, Luckin Coffee has chosen to create its own brand app: WeeChat. The reason behind the decision is that Luckin Coffee wants the exclusive rights to the fuel for its operations: The customer and shipping data.
A Chinese Concept
It is incredibly simple and easy to shop online (and offline) in China. Two of the reasons for this are how seamlessly shopping is integrated into people's digital and portable living rooms (smartphones), and how easy and cheap it is to have items delivered (to your home). The latter has partly been possible because labor, at least up until now, has been so cheap: A messenger delivery only costs a fraction of what it does in Europe or the US. The last-mile concept has not (so far) posed an expensive financial dilemma in China. With regard to traffic and the environment, however, it has been very costly.
Can retailers in other countries get closer to their customers in terms of both time and distance?
The technological infrastructure and financial opportunities in China have turned Luckin Coffee into a successful Chinese concept. The density of the population is a variable in all of this, of course. Shanghai on its own has a population of 23 million people. In a small country such as Sweden, for example, there simply is not a large enough market or the digital infrastructure to be able to get a cup of coffee delivered to the office at a (un)reasonable price—to put it simply.
Luckin Coffee does illustrate—in a natural way, since it is a café concept after all—how important it is that your products are available where people are; that companies need to make use of available locations in both shopping districts and in other areas where people naturally go in their everyday lives, and thereby create stronger purchase and delivery solutions. This kind of logistics-hub thinking, together with the control Luckin Coffee has over shipping and customer data, makes it possible for it to make predictive staffing and stocking plans that in turn make smarter last-mile deliveries possible.
For e-commerce companies, brick-and-mortar retailers, or property companies in other less densely populated countries, the question is: Can we get closer to our customers in terms of both time and distance in a similar way? Even if we are just a small company and not a large franchise with billions in investment capital?
Yes, you can. Contact us, and we will tell you more :)